Support: Add Health Conditions
This is where you can add any conditions that have previously or are currently affecting your health; anything from a mild symptom to serious diseases.
An important aspect of this questionnaire is the ability to attribute any of these conditions to any treatment that you may have had, prior to the condition.
From Review My Data , click the Health Conditions link to go to the Health Conditions summary box
Click Add Health Condition to be taken to the Add new Health Condition form
Or, select No Existing Conditions if you have nothing to add at present.
Summary of Health Conditions
This is where you will see a summary of all your logged health conditions.
You can also add a new condition by clicking the green ADD button or the red Add Condition link.

---
Add new Health Condition
When you choose to add a new health condition, you will be presented with the following form:
Mandatory fields are marked with a * and you will not be able to save the form without first completing them.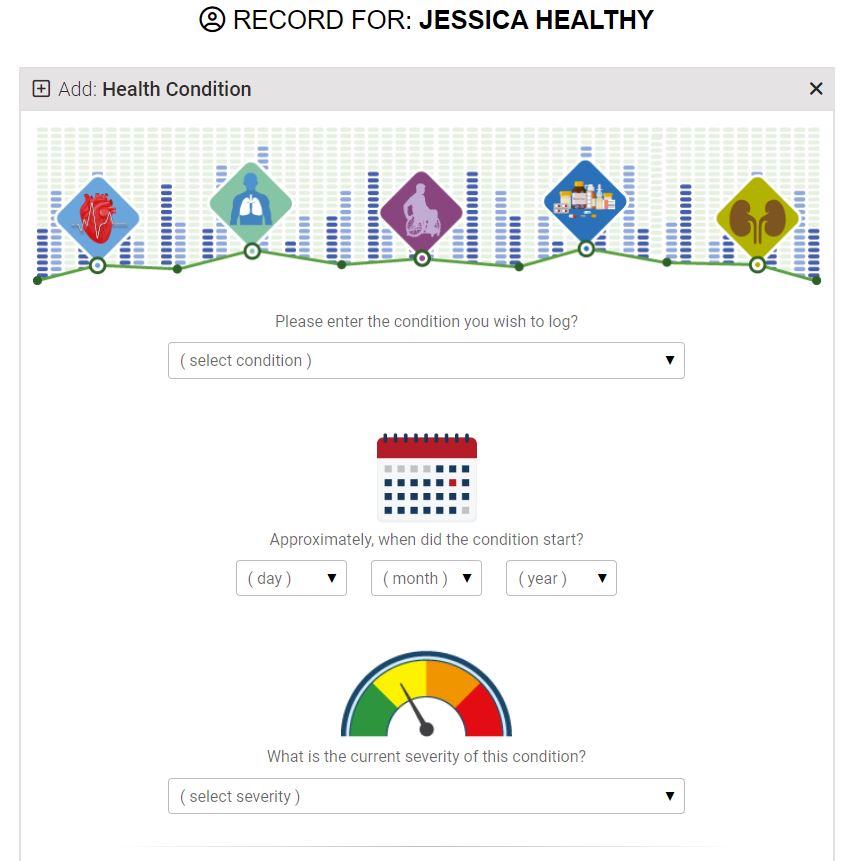 The ( select condition ) drop-down is searchable:
Click in the box and start typing the condition you want to look for - options will appear for you to choose from.
If you cannot find your condition, you can enter it in OTHER
As this is an evolving list, please email support@controlgroup.coop, to request any missing conditions are added.to request any missing conditions are added.
Enter the date the condition began, or when you were diagnosed.
If you cannot remember the exact date, enter an approximate date.
Select the current severity of the condition.
This can be changed at any point.
If your condition is any type of Cancer, a further set of options will appear for Stage and Grade

Cancer stages and grades
This will only show if you have selected a Cancer.
The first section asks what STAGE* was your cancer at when you were first diagnosed . This is an important question, because of the suggested rise in "turbo" cancers that are presenting with a high stage or grade at diagnosis.
If you don't know the stage, select UNKNOWN
If you don't want to tell us, choose PRIVATE
* ( Staging is a way of describing the size of a cancer and how far it has grown)

The next section asks what GRADE* was your cancer when you were first diagnosed. Again, this is an important question, because of the suggested rise in "turbo" cancers that are presenting with a high stage or grade at diagnosis.
* ( Tumour grade describes a tumor in terms of how abnormal its cells are when compared to normal cells. A low-grade cancer is likely to grow more slowly and be less likely to spread than a high grade one.)

The third part asks what STAGE and GRADE your cancer is currently at.
You can update this as your cancer changes and the progress will be stored in your record, although at present, you will only see the most recent selection.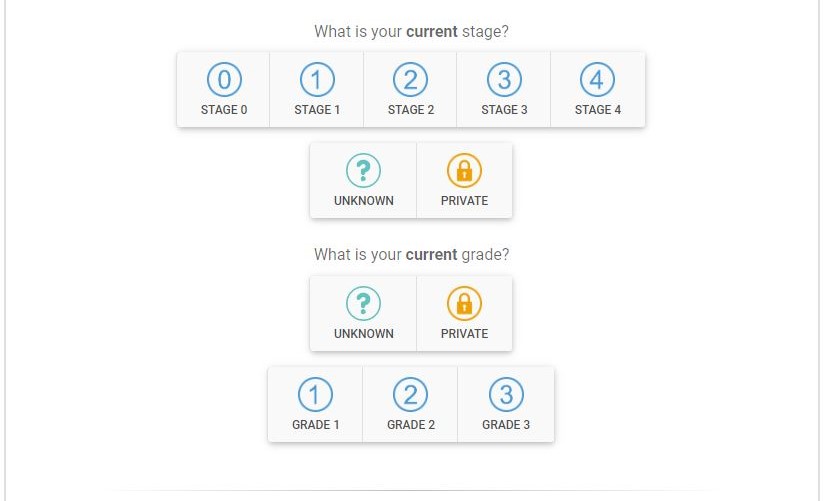 Cause of health condition
if you believe the condition you have just entered was due to (caused fully, or in part by), a medication/supplement, procedure/surgery or vaccination that you have had, you can attribute it here.
Adding a cause
Select the cause: medication (or supplement), surgery (or procedure) or vaccination

A new section will appear, asking if this has been confirmed by a doctor.
Answer YES if you have had confirmation from a doctor, or healthcare provider
Answer No if this is something you believe to be true, but have not confirmed
Select the medication/supplement, procedure/surgery or vaccination from the ones you have entered in the list.

Finally, enter any symptoms you want to record and notes relating to this condition.
Click the Show on Health Card slider at the bottom of the form, if you want this medical condition to show on your Health Card QR page
Press the orange SAVE button to save your record.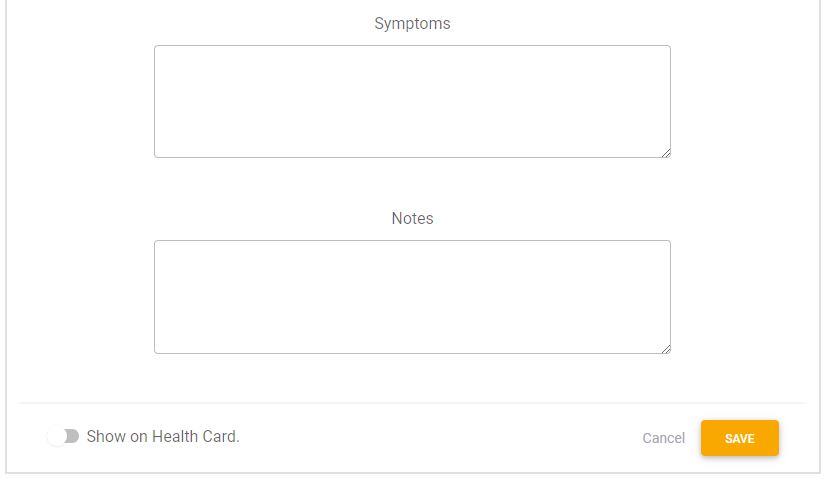 My Health Condition has changed severity or resolved
If your health condition has changed in severity, or resolved, please edit your record to change the SEVERITY .
If you select Resolved from the SEVERITY list, you will be prompted to enter an END DATE before saving the record.
Edit a Health Condition
Once you have saved your health condition, it will appear in the Health Condition Summary box.
To edit your health condition, click the blue edit button

Delete a Health Condition
Please do not delete a health condition if you no longer have it, because this is important information that could help us build a picture of what treatments are involved in the resolution of diseases.
The only reason to delete a health condition is if you added it in error.
If you no longer have the condition, you can edit the record and change the Severity to RESOLVED.
If you select the DELETE icon, you will be asked if you are sure you want to delete the condition and offered the option of changing the Severity to Resolved.